Former Red Sky boss says contract move risks 450 jobs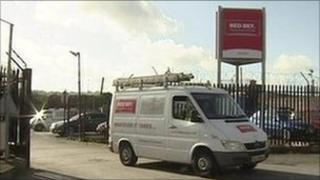 The housing maintenance contractors Red Sky have said about 450 jobs are at "serious risk" unless its contract with the Housing Executive is reinstated.
Red Sky former managing director Peter Cooke said the entire workforce could lose their jobs.
Last week the Northern Ireland Housing Executive said it was terminating the £8m contract with the east Belfast company.
Red Sky has now gone into voluntary administration.
The former management at the company also told the BBC it would welcome an independent review of the work it has carried out for the Executive.
Protest
Mr Cooke said the business had just returned to making a profit.
"We were just back on the straight and narrow, with the full backing of the banks and this comes round the corner and hits us head on," he said.
"This really has the ability to destroy the company completely."
On Wednesday Red Sky employees blocked the main gates at Stormont during a protest over the cancellation of the maintenance contracts.
The company's workers were also involved in a protest outside the Housing Executive's office in Adelaide Street in Belfast on Wednesday.