Red Sky admit erroneous Housing Executive charges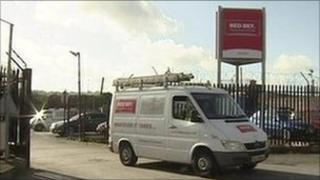 Housing maintenance contractors Red Sky has admitted that it charged the Housing Executive for work on two apartment blocks that no longer exist.
The company said it was a minor error and called for an independent assessor to examine the calibre of its work.
The Housing Executive terminated an £8m a year maintenance contact with Red Sky last week.
Red Sky employs 450 people and is now in administration.
The Executive made the decision to withdraw the contract after it carried out an investigation into Red Sky's work practices including allegations of over-charging.
According to Red Sky the Executive alleged it was over-charging by around 10% on a sample of £350,000 worth of work but when the company examined the claim it had in fact been underpaid for the work in question.
In one example, Red Sky admitted it was charging for a lighting maintenance contact on two apartments blocks that were demolished some time ago but insist it was an easy mistake to make.
Former Red Sky managing director Peter Cooke said in practical terms the figures were incorrect.
"We get a work order on a monthly basis to drive through an estate and check and repair any communal lighting," he said.
'Serious risk'
"In reality the number of blocks in the estate were never counted and some of them had been demolished in previous years during the time of the other contractors.
"We held our hands up to that and we have repaid the money in full and it was a very small sum."
The company claim the Executive made a similar error by accusing them of charging on non-existent properties which do in fact exist.
The Housing Executive said given the serious findings of the investigations carried out it considered it appropriate to give notice that it was ending its contract with the company.
Mr Cooke said about 450 jobs are at "serious risk" unless its contract with the Housing Executive was reinstated.
Mr Cooke said the entire workforce could lose their jobs at a time when the business had just returned to making a profit.
"We were just back on the straight and narrow, with the full backing of the banks and this comes round the corner and hits us head on," he said.
"This really has the ability to destroy the company completely."
On Wednesday Red Sky employees blocked the main gates at Stormont during a protest over the cancellation of the maintenance contracts.
The company's workers were also involved in a protest outside the Housing Executive's office in Adelaide Street in Belfast on Wednesday.