Two NI property developers declared bankrupt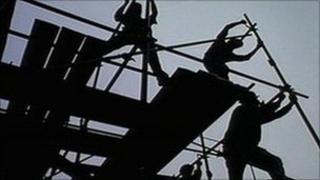 Two major Northern Ireland property developers have been declared bankrupt.
They are Sam Thompson who ran Thompson Developments and Fergal McAlinden one of the founders of housebuilder Lavelle and McAlinden.
Earlier this year, the BBC revealed that Anglo Irish Bank was pursuing Mr Thompson for a personal debt of £90m.
The BBC understands that other developers are facing bankruptcy in the coming months.
Mr Thompson, of Drumnabreeze House, Magheralin, was being pursued by Anglo in relation to personal guarantees he signed in 2009.
His firms also owe money to Ulster Bank.
Last month a receiver's report showed that one of his companies, Thompson Lennox, owed Ulster £23m but that its assets are now worth just £3m.
'Unlimited liability'
Fergal McAlinden founded Lavelle and McAlinden in 1988.
The firm was based in Newry and operated on both sides of the border.
It was organised on an unlimited liability basis which meant it did not have to publish accounts.
In recent months, banks have been selling some of the firm's assets including a partially built apartment block on the Crumlin Road in Belfast.
Financial consultancy KPMG appears to have been acting as a receiver for some of the firm's assets in the Irish Republic.
The Northen Ireland property industry has been in crisis for at least three years.
A significant number of sub contractors and small developers have been bankrupted.
In recent months some banks, particularly Anglo, have become more aggressive in the enforcement of personal guarantees.
Mervyn McAlister, the north Antrim developer bankrupted earlier this year, was an Anglo client.