Ombudsman Al Hutchinson asks for second review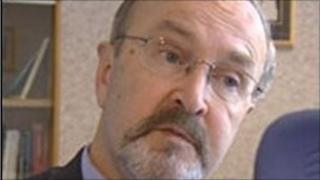 The Police Ombudsman's Office has asked Criminal Justice Inspectorate (CJI) to review its independence from the PSNI.
Lat week, the office's chief executive Sam Pollock resigned after claiming its independence had been undermined by meddling from senior civil servants.
CJI Chief Inspector Michael Maguire has said he hopes to complete his review by the end of June.
Justice Minister David Ford has already commissioned another review of the claims.
The chief executive of the Community Relations Council, Tony McCusker, will decide if officials interfered in the governance of the office and whether officials made false or malicious allegations against Mr Pollock.
The Police Ombudsman, Al Hutchinson, said he welcomed the appointment of Mr McCusker but that his review would not deal with all the issues raised in the wake of Mr Pollock's resignation.
"Mr McCusker's terms of reference do not address the alleged lack of operational independence from the PSNI.
"I have categorically refuted such suggestions and have stated that the office has both real and practical independence from the PSNI."
Mr Maguire said his report would provide "an impartial, evidence-based analysis of the relationship between the Police Ombudsman's Office and the Police Service of Northern Ireland."