Three men charged over Armagh arms find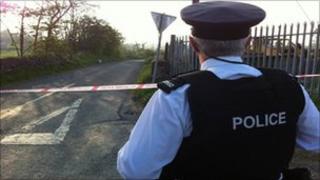 Three men are due to appear in court later charged in connection with the discovery of guns and ammunition in south Armagh.
The men, aged 34, 35 and 39 will appear in court in Newry on Monday.
They are charged with possession of firearms, preparation for committing acts of terrorism and possession of articles likely to be of use to terrorists.
Police said a "substantial amount" of machine guns and rifles were found.
The weapons were discovered in a vehicle during a joint PSNI and Garda operation in Keady on Friday.
The charges follow the discovery of a second quantity of bomb making equipment in separate searches in south Armagh.
No arrests have been made in relation to the discovery of this equipment and details of the locations of the finds have not been released.
Police said the threat from dissidents remains "severe" and urged vigilance over Easter.
Since the murder of 25-year-old PSNI constable Ronan Kerr three weeks ago, police have warned that dissidents are continuing to target its officers.
Police have asked the public to be both careful and patient over the Easter holiday period.
"Dissident terrorist groups are continuing to identify officers and target them with the single objective of killing them.
"And, in so doing, their reckless actions will also put the lives of our wider communities at risk.
"We ask for (the public's) patience with their officers if they are inconvenienced due to police activity," a spokesperson added.