MOD says no to Belfast RIR homecoming parade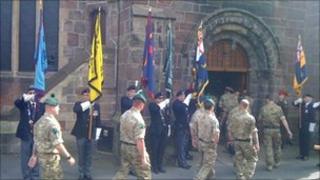 Soldiers from the Royal Irish Regiment returning from Afghanistan will not have a homecoming parade in Belfast, the Ministry of Defence has confirmed.
The MOD said it has turned down an offer from Belfast City Council to hold a march through the city centre in honour of the soldiers.
It blamed "post-operational duties".
Secretary of State for Defence Dr Liam Fox said it was a "kind invitation" but a parade was "not the best way to proceed".
"We will consult the city council and other parties in the coming days about how we can best mark their commitment in another form," he added.
The MOD said a service of thanksgiving will be held at St Anne's Cathedral in Belfast on 22 May.
More than 1,500 members of the regiment returned from a tour of Afghanistan two weeks ago.
Three soldiers from the battalion were killed during the operation, which began in September.
Ranger Aaron McCormick, 22, from Macosquin in County Londonderry was killed by an improvised explosive device (IED) in November last year.
Ranger David Dalzell, 20, from Bangor was shot in February. The exact circumstances of his death have not yet been confirmed.
Lance Corporal Stephen McKee, 27, from Banbridge, was killed by an IED in March.
Earlier this month, Belfast City Council voted to approve a parade for the Royal Irish Regiment and the Irish Guards.
The motion was backed by the DUP, UUP and Alliance parties, but opposed by the SDLP and Sinn Fein. The final vote was 26 to 20.
There were protests at a previous parade in 2008.
‪