NIFRS contains 15 gorse fires across Northern Ireland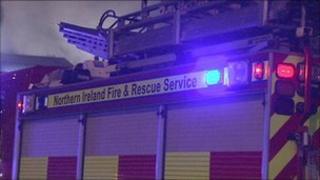 The Northern Ireland Fire and Rescue service has brought fifteen gorse fires across Northern Ireland under control.
The majority of the fires are in the west and the south of Northern Ireland.
About forty firefighters were at the scene of a large fire on the Baranailt Road near Claudy, in County Londonderry.
Some crews will monitor sites overnight to tackle any possible flare-ups.
NIFRS area commander Brian McClintock said that many gorse fire are started deliberately.
""The message we would like to put out to people, because unfortunately a large number of these fires are deliberately set, is for people not to light fires deliberately in grassland and gorse areas," he said.
"Because the ground is tinder-dry they spread very quickly and, even if there is no immediate danger, a simple change in the wind direction can put people or property in danger very quickly."
Mr McClintock said that, because wildfires took large numbers of personnel to deal with, they may delay the service's response time in attending life-threatening emergencies elsewhere.
"We do have sufficient fire cover across the country, but the difficulty is we may have to bring crews from an adjacent area as opposed to the local crew who are tied up at a gorse fire and that means it may take us a little bit longer.
"So we really need everybody to work with us to cut down on these deliberately set gorse fires."
Earlier on Saturday, a large gorse fire in north Antrim was brought under control.
More than 60 firefighters attended the blaze near Armoy, which started just after 2300 GMT on Friday.