Police arrest three men following Kilkeel shooting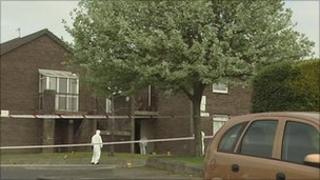 Three men have been arrested after a 36-year-old man was shot dead in County Down.
The shooting happened in the Rooney Park area of Kilkeel at 2230 BST on Saturday.
The victim was wounded in the chest during a row between two groups of foreign nationals.
Three men aged 26, 31 and 36 have been arrested. One of the suspects is in hospital after he was shot in the leg during the incident.
Two other men are being questioned at Antrim police station.
It is believed a dispute between the two groups started when a house was attacked at Haywood Way at 2100 BST on Saturday.
'Shock'
The trouble then moved to Rooney Park, where at least two shots were fired in the street. The attackers then fled the scene on foot.
SDLP leader Margaret Ritchie said the violence had shocked the quiet fishing village.
"Unfortunately, gun crime has the ability to utterly devastate entire families and communities.
"This is in stark contrast to the way of life in Kilkeel and the much good work that has gone on in the area," she said.
DUP candidate for South Down Jim Wells also condemned the shooting.
"I own a house in Rooney Park and I have spoken to local residents about the incident.
"It is welcome that the PSNI is already making arrests and progressing the investigation."
David Griffin from the Alliance Party said: "This was an absolutely appalling incident. The whole community is in shock and is deeply saddened at what has happened."