Easter Rising commemorated in Dublin and parts of NI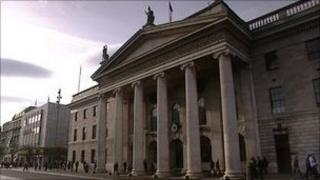 Ceremonies have been held in the Republic and in various parts of Northern Ireland to mark the 95th anniversary of the Easter Rising.
Over 3,000 people attended an event outside Dublin's General Post Office.
The tricolour at the GPO was lowered at noon.
Head chaplain of the Irish Defence Forces Monsignor Eoin Thynne prayed that people would speak out as one voice against those who persist with cowardly acts of terrorism.
He said that as an island of a thousand welcomes Irish people should show love for their neighbours.
President Mary McAleese and the Irish Prime Minister Enda Kenny attended the ceremony.
In County Londonderry, Sinn Fein's Martin McGuinness addressed an Easter commemoration at the Loup and said that dissident republicans were living in "a fool's paradise".
"No act of violence will advance the cause of reunification by one millimetre," he said.
"It is patently not possible to advance towards Irish reunification by any means other than peaceful and democratic processes."