NASUWT: NI politicians 'let children down'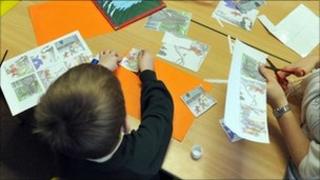 Political wrangling and indecision is jeopardising the education and future of an entire generation of children according to the largest teachers union in Northern Ireland.
Delegates at the annual conference of the NASUWT condemned the delays to education reform in a motion debated at the union's annual conference.
It said the ongoing failure to establish the Education and Skills Authority (ESA) meant vital funds were being wasted, staff were being made redundant and class sizes were rising.
The ESA was due to take over the functions of the education and library boards and other bodies like the CCMS on 1 January 2010, but the necessary legislation has yet to go through the NI Assembly.
By January 2011 the cost of running the ESA had reached £10m, without any sign the new body would be approved.
The Department of Education described the setting up of the ESA as an "invest to save measure" with savings of £20m a year in administration costs.
'Crying out'
Some staff appointed to the authority have now temporarily returned to other education bodies.
These bodies were supposed to have been taken over by the ESA.
Chris Keates, general secretary of the NASUWT, said teachers, pupils and parents in Northern Ireland were "crying out for reforms".
"The current situation in Northern Ireland, in which education is administered by an overly bureaucratic and burdensome system of bodies, has left teachers confused and let down children and young people who deserve to have their education considered a priority," he said.
"Establishing a single employment body, in the form of the Education and Skills Authority, would help raise standards and help take Northern Ireland's education system forward with confidence."
Seamus Searson, NASUWT Northern Ireland organiser, said children in Northern Ireland "deserve better and so do their teachers".
"I call on the political parties to commit now to establishing the Education and Skills Authority as we approach the elections on 5 May," he said.