Three men appear in court over Armagh arms find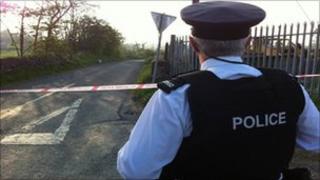 Three men have appeared in court charged in connection with the discovery of guns and ammunition in south Armagh.
Appearing in court in Newry were: Brian Anthony Sheridan, 34, from Avonmore, Blackwatertown; Brian Francis Cavlan, 35, Circular Road, Dungannon; and 39-year-old Dominic Edward Dynes, from Bree, Castleblaney, County Monaghan.
They face a number of charges.
All three were remanded in custody until next month.
The men are charged with possession of firearms, preparation for committing acts of terrorism and possession of articles likely to be of use to terrorists.
Police said a "substantial amount" of machine guns and rifles were found in a vehicle during a joint PSNI and Garda operation in Keady on Friday.
Newry Magistrates Court heard all three men told police they intended to bury the weapons and ammunition which were found in a car.
A detective sergeant told the court he could connect the accused to the charges.
He said Mr Dynes replied when charged that "he was told to bury the weapons found in the car that he was driving and he had no intent to use them at any time to shoot or kill anybody, carry out any robbery or any show of strength".
The other defendants made similar statements. They made no reply, refusing to identify themselves, to a charge of possession of firearms and two counts of possession of articles for use in terrorism on 22 April.