Titanic's tender ship celebrates its centenary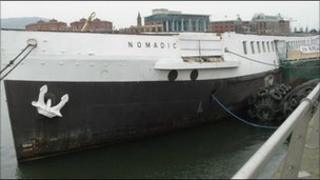 The Titanic's tender ship, the SS Nomadic has celebrated its centenary.
The ship, which is undergoing restoration at the Hamilton Dock in Titanic quarter in Belfast was used to transport first and second class passengers to Titanic at the French port of Cherbourg.
The Nomadic, like the Titanic was built by Harland and Wolff in Belfast.
The Department of Social Development bought the Nomadic at a Paris auction in 2006 and brought it back to Belfast as a potential tourist attraction.
A commemorative plaque was unveiled on board the vessel on Monday to mark the centenary of the launch.
Important role
Denis Rooney chairman of the Nomadic Charitable Trust said: "This is a very special day as Nomadic is celebrating her centenary birthday.
"The Nomadic has played a very important role in the Titanic history and it is nice to honour her as she is the last remaining White Star Line vessel to have survived in the world today."
Work on the first phase of the restoration project is continuing.
The Special EU Programmes Body, the NI Tourist Board, Ulster Garden Villages along with the Department of Social Development have provided funding to help with its restoration.
Both the Nomadic and the Titanic were launched from Harland and Wolff shipyards in 1911.
Iceberg
Less than a year after the White Star Line-owned vessels left the city, the Nomadic was employed to transport first and second class passengers from the French port of Cherbourg to the Titanic ahead of its ill-fated maiden Atlantic voyage.
On that trip it sank after striking an iceberg with the loss of more than 1,500 lives.