Michelin Man stolen from County Antrim factory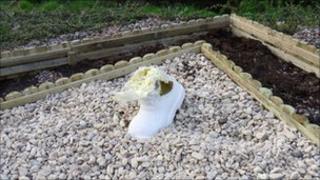 One of the most renowned advertising icons in the world has been kidnapped from outside a County Antrim factory.
A four feet high statue of the Michelin Man outside the firm's tyre plant in Broughshane has been a well-known sight for years.
But some fleet-footed thieves have taken rubbernecking to a new level by stealing the figure worth £2500 from the factory at Raceview Road.
The Michelin Man was stolen in the early hours of Friday morning.
It is believed the statue was then loaded into the back of an estate car by the robbers.
It appears the Michelin Man did not go without a struggle however, as one of his feet still remains at the scene.