Two women arrested in connection with Kilkeel shooting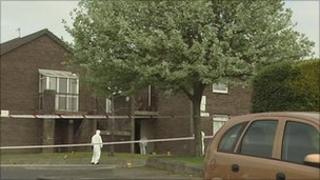 Two women, aged 32, and 39, have been arrested by police investigating the murder of a 36-year-old man in Kilkeel.
The shooting happened in the Rooney Park area at 2230 BST on Saturday.
The victim was wounded in the chest during a row between two groups of foreign nationals.
A 26-year-old man is still being questioned. Two other men, aged 31, and 36, have been released on police bail.
It is believed a dispute between the two groups started when a house was attacked at Haywood Way at 2100 BST on Saturday.
The trouble then moved to Rooney Park, where at least two shots were fired in the street. The attackers then fled the scene on foot.