Protesters leave sit-in at Quinn Group headquarters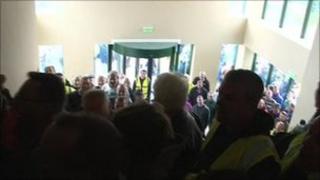 Protesters have left a sit-in at the Quinn Group headquarters in Derrylin, County Fermanagh.
Organisers said they wanted to hand a letter to the new management team brought in by Anglo Irish Bank.
However, it is understood they were unable to do so.
The founder of the company, Sean Quinn passed on a message to the protesters, thanking them for the support and asking them to leave the site.
A spokesperson for the Quinn Group said the protest and "illegal trespassing" had been extremely disruptive and damaging to the business.
"The management team at the company is happy to meet with local groups but actions such as today's protest are most unhelpful and damaging to the Group's business," a statement said.
"We are at a loss to understand how such disruptive actions can claim to protect jobs that we have already clearly stated are safe."
Anglo recently appointed accountants KPMG to take control of the Quinn family shares in the business.
Mr Quinn and his family owe the bank £2.5bn but many people in the region remain loyal to him, praising him for creating jobs in the area.
Last week, a large dumper truck was placed across the entrance to the premises.
Anglo's chief executive Mike Aynsley has said the bank was owed an "enormous" amount of money by the Quinns, which they were not in a position to repay.
The Irish government said that there were no plans for any job losses despite the transfer of the shares.
The most profitable part of the Quinn empire, Quinn Insurance, is to be sold after being in administration for the past year.
BBC Northern Ireland's Julian Fowler, reporting from the scene on Tuesday, said that workers had concerns about the Irish government's pledge on jobs and had once again taken to the streets in support of Mr Quinn.
"Workers fear some parts of the group, such as Quinn Cement, will close while others, like Quinn Glass, could be re-located," our reporter added.
"They are demanding that Quinn management is reinstated and that Quinn Insurance should not be sold off."
One of the protesters, Padraig Donohoe, told the BBC that the local community was fully supportive of Mr Quinn.
"We feel that the eviction of Sean Quinn out of his office is not in any way representing the local area. We feel there are going to be a lot of jobs lost," he said.
He blamed past "mismanagement" of Anglo Irish Bank for the present lack of confidence in its ability to run the Quinn Group.
"We plan to occupy this office until Sean Quinn tells us to go," he added.
"We believe Sean Quinn is the rightful owner of this premises. He's the man who created this business 38 years ago, he's the man who gave 6,000 jobs to this area."