Plans for 150 new Belfast apartments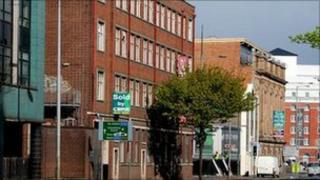 A property development firm has revealed plans to build almost 150 apartments in Belfast city centre.
Village Homes (NI) Ltd has filed a planning application to build 75 apartments at Queen's Square.
A second application proposes demolishing the former Nambarrie tea warehouse on Waring Street and building 56 apartments in an eight storey block.
Village Homes (NI) is controlled by members of the Fraser family, which is well known in the property business.
In 2006, the late Fred Fraser sold 87 acres of development land to the Taggart house building group for a reported £100m.
The Nambarrie warehouse had been on the market for some time with a price tag of £2.25m. A sold sign was recently attached to the building.
The Queen's Square building is a three storey office which was formerly used by Grafton Recruitment.
Its 14-storey replacement would be almost the same height as 'The Boat' building which is on an adjoining site.
A large number of apartments were built in central Belfast during the property bubble.
In many cases, buyers signed contracts but were then unable to secure finance, which has lead to a succession of court cases as developers seek to enforce the deal.
Tom McClelland of the Royal Institute of Chartered Surveyors said it welcomed the boost for the urban environment.
"It is people living in cities that regenerate urban spaces," he said.
"This is a vote of confidence in that it is an experienced developer making an informed judgement on the state of the market."