Toulouse geese rescued crossing east Belfast motorway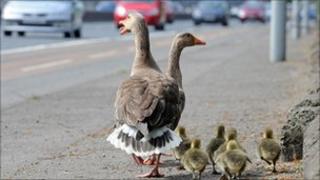 Motorists in east Belfast faced delays this morning from an unlikely source. Not road works, not an accident, but wildfowl.
A family of Toulouse geese wandered on to the Sydenham Bypass, possibly in search of water in nearby Victoria Park, and became stranded on the hard shoulder.
Teaching student Rebekah Hall and her boyfriend David Strain were driving to Queen's University when they spotted the animals and came to their rescue.
Ms Hall, 22, told the BBC that after initially driving past, she became "slightly hysterical" and convinced her boyfriend to turn around.
Ms Hall phoned for help from the RSPB, the RSPCA and the police, but soon realised she would have to take matters into her own hands.
Joined by a fellow motorist, who works at the nearby George Best Belfast City airport, she stepped out onto the busy carriageway and stopped traffic in both directions to allow the geese to cross.
"The chicks were being left behind so I had to lift them and get them across," she said. "It was like the typical joke, why did the geese cross the road?"
Once they had all got to the other side, Ms Hall walked the geese safely to the gates of Victoria Park.
Asked what made her put herself at risk to save the birds, Ms Hall said: "I'm human. They can't look after themselves and I think everybody's human instincts just switch on to these sort of things.
"A lot of people driving past probably thought they'd like to do something but couldn't because they're on a dual carriageway.
"But sometimes you just have to go out of your way and help."