Millions in pension payments 'going unclaimed'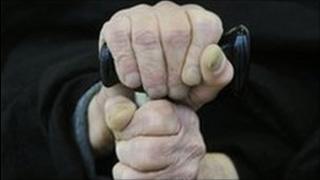 Millions of pounds of benefits are going unclaimed each week because older people do not understand what their entitlements are, it has been claimed.
Age NI and Age Sector Platform have said assembly election candidates need to put reform of pension credit top of their agenda.
They say the amount of calls to their helplines doubled last week as older people realised they were losing out.
Anne O'Reilly of Age NI said a message was being sent to decision-makers.
"Older people do not know what they are entitled to or how to access it. Older people are losing out; the economy is losing out," she said.
"An innovative approach to benefit uptake is urgently needed with the ultimate goal being automatic payment of Pension Credit, if this issue isn't addressed, pensioner poverty is only set to get worse."
She said there was also a strong economic argument for automatic payments.
"The additional income could afford older people a better quality of life, increase local spending and boost the Northern Ireland economy," she said.