Suspicious object examined at PSNI station in Belfast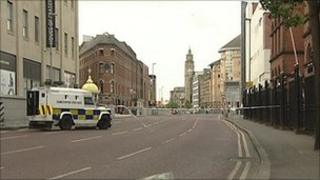 A security alert at Victoria Street in Belfast has ended after army bomb experts were called to examine a suspicious object at a police station.
Army technical officers re-checked a device at Musgrave Street Station, which was initally examined on 12 April following its removal from the Royal Mail Sorting Office on Tomb Street.
Police said the alert was linked to an investiagtion into packages sent to Celtic manager Neil Lennon.
Victoria Street has now re-opened.