Funding for Enniskillen's CCTV system is secured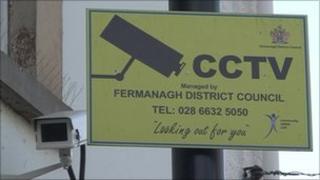 Funding for a CCTV system in Enniskillen has been secured following fears the cameras could be switched off.
Fermanagh District Council has reduced the contribution it wanted from the town's business community.
It had initially asked traders to fund half the £50,000 annual running costs, but only 28 out of 400 businesses pledged their support.
The council and PSNI will now fund two thirds of the scheme.
A total of 43 businesses have now come forward to sponsor the cameras for the next three years.
Since the seven cameras were switched on three years ago, there has been a dramatic reduction in crime.
In the first two years, recorded crime fell by 54% and CCTV monitoring room staff observed 2,509 incidents.
CCTV images have been used in the preparation of 129 police prosecution files and six Police Ombudsman reports.
Fermanagh District Council said a broad spectrum of support had been obtained from across the business sector, including some firms who operate outside of the camera scheme's catchment area.
It added that all the businesses that are supporting the scheme are to be congratulated, not only on their positive attitude for the scheme itself, but also on "their commitment to Enniskillen as a commercial, retail and tourist centre".