Giant's causeway sculpture in Victoria Square destroyed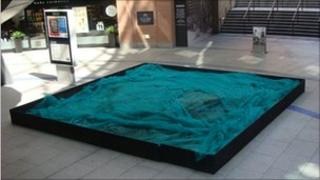 A sand sculpture of one of Northern Ireland's most famous landmarks, the Giant's Causeway, has been destroyed by vandals.
The project, created by Yorkshire-born artist Paul Hoggard, had been on display in Belfast's Victoria Square shopping centre for only two weeks.
Taking over a year to plan, and five days to complete, the sculpture weighed about 18 tonnes.
It is believed a young man vandalised the work on Saturday afternoon.
The sand sculpture was commissioned as part of a fundraising scheme by the National Trust.
It was intended to encourage visitors and to raise money for a new visitor centre being built beside the real causeway on the Antrim coast.
Marissa Lavery from the National Trust said: "It's really sad that somebody mindless just didn't see the value in it, that so many thousands of people were getting such pleasure from this fantastic sand sculpture."
Due to remain on display for another two weeks, the remains of the sculpture are already being cleared away by Victoria Square staff.
'Destructive individual'
Victoria Square Centre manager Hugh Black said: "It is a great disappointment that the many tourists and customers coming through Victoria Square throughout the week have not been able to see the wonderful work of art."
"We are also disappointed that the National Trust collection for the Causeway Project was cut short by one destructive individual," he added.
However, Ms Lavery was confident that the fundraising would not be disrupted by the incident, and was pleased with the response to the short-lived project.
"Thousands of people got to enjoy it and hopefully all that pleasure is still out there somewhere," she said.
The PSNI are currently investigating the incident.