Ballymagroarty bomb alert an elaborate hoax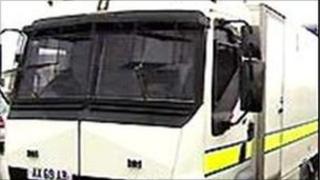 Two people have been arrested after police were attacked at the scene of a bomb alert in Londonderry.
The pair were arrested after allegedly trying to breach a cordon.
The alert at Dunluce Court, which caused about 100 people to be moved from their homes, was declared an elaborate hoax.
A gas cylinder with wires taped to it had been left. Chief Inspector John Burrows said police had attempted to minimise disruption during the alert.
"Decisions around cordon points and evacuations during any alert are made in line with public safety, security considerations and the safety of officers," he said.
"It is always our intention to minimise the disruption caused to the community in accordance with public safety.
"However, I am aware that some elements within the area attacked my officers and tried to breach the cordon."
Chief Inspector Burrows said the blame for any disruption to the community "must be firmly laid at the feet of a small number who have no regard for who may be affected by their actions".
"Once again our community has been severely disrupted by the thoughtless actions of those who have no part to play in our community," he added.