Smoke grenade thrown at officers during Bangor trouble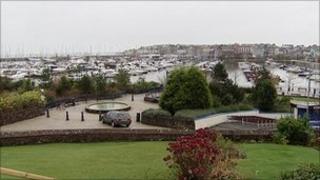 A smoke grenade and firework were thrown at police trying to disperse a crowd causing trouble near a family pool in Bangor on Easter Monday.
The objects were thrown after police responded to reports of up to 20 people causing serious disruption at Pickie Pool where children were playing.
After moving them on, police received another report of 100 young people causing a disturbance at the pool.
In all three people were arrested during the trouble.
Police used a public order dog to help disperse the first crowd of 20 people.
The second group of up to 100 were said to be highly intoxicated. Two of them were arrested for public order offences.
Officers used the dog to help disperse the crowd, and seized large amounts of alcohol.
They then escorted at least 50 people to Bangor train station. Officers from Bangor boarded a train to Belfast to ensure order, before being replaced by PSNI colleagues in south Belfast.
A man was arrested on suspicion of causing damage to a police motorcycle at Queen's Parade.
Seven others were stopped by police and will be reported for public order offences.
A 16-year-old boy was subsequently charged with indecent and disorderly behaviour and is expected to appear at Ards Magistrates Court on 17 May.