Dungiven car trader Richard Grieve fined for 'clocking'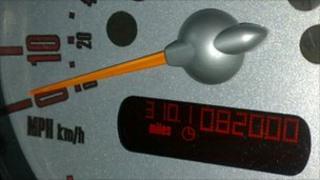 A car trader, who supplied a 'clocked' vehicle with a false MoT certificate and service history, has been fined a total of £750 plus £148 costs.
Limavady Magistrates Court also imposed a £1,323 compensation order on Richard Grieve, of Derrychrier Road, Dungiven.
He pleaded guilty to six charges under the Consumer Protection From Unfair Trading Regulations 2008.
An Audi car he sold was advertised as having done 70,000 miles when it had actually travelled 115,823 miles.
To support the false mileage, Grieve supplied a false service history and false MOT certificate.
The Trading Standards Service investigation, which started in August 2009, revealed Grieve had placed a further five car adverts without declaring he was a car trader.
Raymond Dolan of the Trading Standards Service said: "Consumers have the right to know the bona fides of the individual from whom they are buying.
"Mr Grieve was obliged to declare his true status as a car trader. Furthermore, he was also obliged to establish the true history of the vehicle prior to its sale."