Almost half of Seanad seats in Irish parliament filled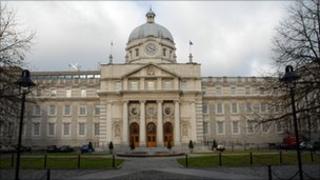 In the Republic, 28 out of 60 seats have now been filled in the election of members to the Irish Senate.
The ruling Fine Gael party has 11 seats, Fianna Fail has taken nine, Labour has five and Sinn Fein have won two.
This could be the last ever election of members to the Senate which is the upper house of the Irish Parliament.
The new coalition government has vowed to abolish it by putting its future to the people in a referendum.
Sinn Fein's David Cullinane said he would use his seat in the Seanad to "put forward my party's alternative vision of fairness and equality".
The second seat in the Seanad was won by Trevor O' Cloctaraigh.
Among the casualties so far are the outgoing Fianna Fail leader of the Senate, Donie Cassidy.
Among those elected so far are former ITV journalist Susan O'Keefe of Labour and potential presidential candidate David Norris.
The counting of votes will conclude on Friday night.