Plan lodged to improve Palace Barracks security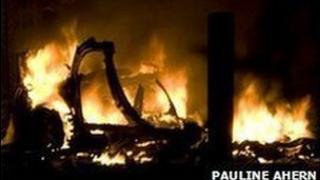 The Ministry of Defence has lodged a planning application to improve security measures at the entrance to Palace Barracks in Holywood.
The application, filed earlier this month, is for a security building, the reconfiguration of site access and road layout and a search bay.
Palace Barracks houses MI5's Northern Ireland headquarters.
A Real IRA car bomb, placed inside a hijacked taxi, exploded outside the base last year.
It happened minutes after justice powers were devolved from Westminster to the Northern Ireland Executive.
Over the last year security has been stepped up at police stations, Army bases and court houses in Northern Ireland.
Earlier this month, work began to install hundreds of bollards around Bishop Street courthouse in Londonderry.