Last week for NI Assembly election campaign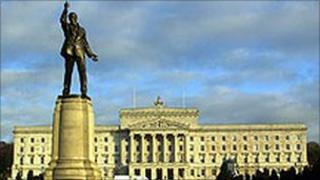 The Northern Ireland Assembly election campaign has entered its last week, with politicians making every effort to persuade voters to support them before the polling stations open on Thursday.
Some postal votes have already been opened and checked by Electoral Office staff.
More will be received between now and polling day, when they will be added to the main count.
Polling stations open at 0700 BST on Thursday morning and close at 2200 BST.
Voters will get three ballot papers - a white paper for the Assembly and a brown or buff paper for the Council.
Both these elections are being held under the Single Transferable Vote system and voters should mark them with a 1, 2, 3 and so on beside their chosen candidates' names.
The third paper is for the referendum on how we should choose our MPs in the future.
The paper asks the following question: "At present, the UK uses the 'first past the post' system to elect MPs to the House of Commons. Should the 'alternative vote' system be used instead?" Voters should mark either a Yes or No box with an "X".
The comedian Eddie Izzard visited Belfast over the weekend to support the Yes to AV campaign. Sinn Fein, the SDLP and Alliance are backing a change to the voting system, whilst both main unionist parties prefer to retain "first past the post".
Party leaders are preparing for their last TV debate of the Assembly campaign - it will be broadcast on BBC1 at 2240 BST on Tuesday.
Individual voters will get the chance to put their points directly to the leaders of the five biggest Stormont parties.
Concern
Last week, a similar debate on UTV attracted an audience of about 90,000, down about 50,000 on the comparable programme during the 2010 Westminster election campaign.
The relatively low figure has prompted concern about the potential for a low turnout at Thursday's Assembly poll.
In the run-up to Tuesday night's debate the politicians have clashed across the airwaves.
On BBC Radio Ulster's Nolan show on Monday, Sinn Fein's John O'Dowd defended his colleague Caitriona Ruane against other parties' criticism of her handling of education and academic selection.
Over the weekend, candidates debated topics as varied as investment in roads and sport funding on the BBC's Politics show.
The campaign has generally been regarded as low key - although the First Minister Peter Robinson injected a lighter note over the weekend when he tweeted about accidentally falling into his koi carp fish pond.