Quinn Group protesters meet Anglo Irish chairman Dukes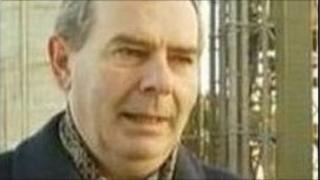 A group protesting against the removal of Sean Quinn from the business empire he founded has met the chairman of the Anglo Irish Bank, Alan Dukes, in Dublin.
The Cavan Fermanagh Leitrim Area Community Action Group called on the bank to reinstate Mr Quinn to the board of the Quinn Group.
Last month, Anglo Irish Bank appointed accountants KPMG to take control of the Quinn family shares in the business.
Mr Quinn's family owes the bank £2.5bn.
After Tuesday's meeting, a spokesperson for the delegation, Padraig Donoghue, said: "Very serious issues regarding the best deal for the community at large and indeed the taxpayer in general, remain unanswered.
"Mr Dukes has agreed to meet with us again, hopefully in our own community, and we are also meeting with Paul O'Brien, CEO of the Quinn Group on Friday, when we hope to get some of our questions answered."
Anglo Irish Bank has said the bank was owed an "enormous" amount of money by the Quinns, which they were not in a position to repay.