PSNI urges NI public not to tackle gorse fires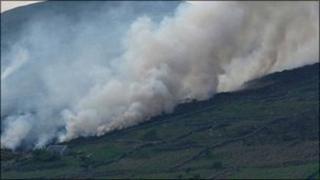 The police have warned people not to try to tackle gorse fires by themselves.
It follows a search and rescue operation near Cushendun early on Wednesday morning.
It was launched after a report that a man had gone missing while trying to fight fires in Cushleake mountain.
He returned home safe and well. The police said that the fires can change direction without warning and should be left to the fire service to deal with.
Two helicopters, fire crews and coastguard teams were involved in the early morning search.
The police have said they have appreciated the help and patience they have received from the general public but asked that they do not try to tackle gorse fires on their own.
Anyone who is concerned about a fire springing up in their area should contact the Fire and Rescue Service immediately.
The fire service in NI dealt with nearly 6,000 gorse fires last year.