Declan Kelly resigns as US Economic Envoy in NI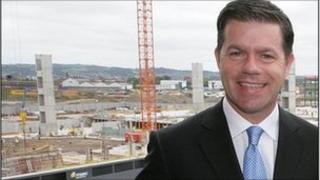 The US Special Economic Envoy Declan Kelly has resigned.
The 42-year-old has worked alongside Invest NI on inward investment projects and events since taking up the role in September 2009.
He has helped to create hundreds of jobs since his appointment by US Secretary of State Hillary Clinton.
Mr Kelly said he had achieved the goals he had set for himself and the time was right for him to move on.
"I think we've made significant progress on many different levels, and when I undertook the job I always had within my mind that I would probably give it around two years to complete the tasks that I'd set for myself," he said
"We had set some very specific goals as part of that mission and we've exceeded those goals.
"I just feel like now is the appropriate time to step down having done so."
There is no indication if Mrs Clinton has any immediate plans to replace Mr Kelly.
'Invaluable'
Major US companies such as the New York Stock Exchange, Euronext, Citi and Kana Software have brought employment to Northern Ireland.
Mrs Clinton said: "During his time as envoy, Declan has helped our friends in the Northern Ireland executive and assembly, Invest NI, and the business community make Northern Ireland one of the best per capita attractors of investment in the world."
The first and deputy first ministers paid tribute to Mr Kelly's efforts to help regenerate the NI economy and for his assistance in securing record levels of foreign direct investment.
Peter Robinson said: "The assistance and advice that Declan has provided has been invaluable as we have set about the task of rebalancing Northern Ireland's economy.
"In recent times we have created more jobs than ever before at a higher level than ever before, Declan has worked closely with Invest NI to help make this happen."
Martin McGuinness said: "Declan Kelly has been a great friend of the peace process and has played a key role in helping the executive attract increasing levels of inward investment over the past couple of years."
Mr McGuinness also thanked Mr Kelly for the role he played in helping to secure the Londonderry City of Culture 2013 bid.
'Immense drive'
Alastair Hamilton, chief executive of Invest NI, said Northern Ireland had been the only part of the world with a dedicated economic envoy.
"In Declan Kelly, we had someone with immense drive, determination and enthusiasm," he said.
Mr Kelly was born in Portroe, County Tipperary, and advised Mrs Clinton during her campaign for the presidency.
He is a former vice-president of FTI, a global business consultancy.
Mr Kelly was not the first person to assume the role of special envoy.
The post was initially created by Bill Clinton with the appointment of Senator George Mitchell in 1995.
Following Senator Mitchell's departure to the role as talks chairman, a purely economic role was filled by another Clinton supporter - Denver lawyer Jim Lyons.
The post did not exist during George W Bush's years in the White House but was resumed with Declan Kelly's appointment in 2009.
There is no indication that the US Secretary of State Hillary Clinton has any immediate intention to replace Mr Kelly - something which may concern politicians and business leaders on this side of the Atlantic.