David Dunseith retires from BBC NI's airwaves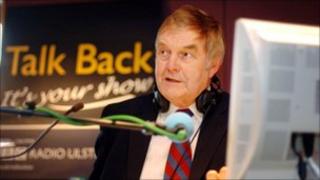 Veteran journalist David Dunseith has announced he is retiring from BBC Radio Ulster.
His career in broadcasting has spanned four decades.
He is most closely associated with BBC Radio Ulster's Talkback programme, which he presented for almost 20 years.
Through some of the darkest days of the NI troubles and in the absence of a local political assembly, the programme provided a forum for debate where no other existed.
During his time on Talkback he secured an interview with Helen McKendry, the daughter of Jean McConville, one of the so-called disappeared, who were murdered by the IRA.
"Poignant interview"
Ms McKendry broke a 22-year silence to talk about the day her mother was taken away.
In a House of Lords debate, the late Lord Fitt described it as the most "poignant interview" he had ever heard.
David also confronted other aspects of the dark past in a measured interview with the Brighton bomber Patrick Magee.
But throughout his work it has been his ability to engage with ordinary people, allowing them to express both their grief and their anger, that listeners have found most compelling.
"Consummate broadcaster"
He ends his career in BBC NI, presenting Seven Days on Sunday afternoon, finishing as he began - still talking about the issues that matter to the people of Northern Ireland.
Peter Johnston, director BBC NI said: "David is a consummate broadcaster who steered the Talkback programme through some of the most difficult and contentious years in our society.
"He conducted interviews in a searching and robust manner, always with courtesy and good humour.
"He can be rightly proud of his contribution to the success of one of our flagship programmes."
Kathleen Carragher, head of news said : "David Dunseith was passionate about Talkback and its audience.
"His grasp of Northern Irish society was unparalleled.
"He is renowned for his wit, humour and in depth knowledge of Northern Ireland and he will be sadly missed from our airwaves."
Journalist Mike Philpott, is a former contributor to Talkback, who worked with David for many years.
"In my 34 years in journalism, I've met a small number of people who have taught me something fundamental about the business," he said.
"David Dunseith is one of those people.
'Gentleman'
"He is a master of his craft, who always questioned things and never took anything at face value.
"But underneath the tough interviewing style there was always a gentleman, and someone I'm proud to call a friend."
A regular listener to Talkback, Elizabeth called to recall their memories of his time on the airwaves.
"I just rang up to wish David all the very best, and I hope he has a long retirement," she said.
"David is a true gentleman.
"I think he gave the ordinary Joe Bloggs in the street a voice."
Mr Dunseith began his career in UTV, anchoring the nightly news programme UTV Reports.
He later joined BBC Northern Ireland as a political journalist and analyst, presenting the television current affairs programme Spotlight and chairing programmes dealing with major events such as elections.
He became a regular contributor to Talkback when it first went on air in 1986 and in 1989 he became its presenter.
He won 'Local Broadcaster of the Year' in 1993 at the Sony Awards for his role in the programme.
BBC Radio Ulster's Talkback programme won a Gold Sony Award in 1997 for Best Phone-in/Topical Debate.
The programme also won a Silver Sony Award in 2006 in the News & Current Affairs programme category.