Burglar Anthony Robert Montgomery loses court appeal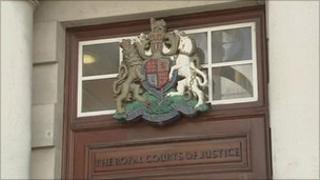 A burglar who attacked a policewoman when she disturbed him breaking into her Belfast flat has failed in a bid to overturn his conviction.
Anthony Robert Montgomery, 43, was jailed for four years last year after he was convicted of burglary, actual bodily harm and criminal damage.
Montgomery, formerly of Dunluce Avenue in Belfast, broke into the apartment at St John's Wharf in February 2009.
The Court of Appeal ruled there was nothing unsafe about his conviction.
He had been in a bedroom when the officer arrived home and, during a struggle, grabbed a gardening tool which he used to try to attack her.
The policewoman suffered a gash to her hand and was shoved against a mirror, causing it to smash.
Montgomery was arrested hours later in Newcastle, County Down where a gardening implement, hammers and a cutting tool were all found in a bag in his car.
Following his conviction last June, he was ordered to spend a further two years on licence after completing his prison term.
'Sustained and vicious'
The trial judge said Montgomery, whose criminal record includes a number of other burglaries, had subjected the victim to "a determined, sustained and vicious encounter".
His lawyers challenged the safety of the conviction, claiming police failed to pursue all reasonable lines of inquiry and that a direction of no case to answer should have been given in his case.
But Lord Chief Justice Sir Declan Morgan, sitting with Lord Justices Higgins and Coghlin, rejected all grounds of appeal.
Sir Declan also pointed out that Montgomery chose not to give evidence at trial.
He said: "The jury were entitled to draw an adverse inference in relation to the failure to seek to explain any of these matters."
The judge added that there was a substantial and convincing circumstantial case connecting Montgomery to the burglary.
"It doesn't seem to us that there is anything to undermine the safety of the conviction. Accordingly the appeal must be dismissed."