Tyrone man jail for killing pal with heroin injection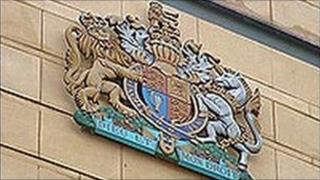 A man who killed his friend when he injected him with heroin has been jailed for a total of five years.
Dungannon Crown Court, sitting in Belfast, heard Conor McVeigh, 30, had smuggled cannabis into a drug addiction unit for Gareth Dallas a week earlier.
McVeigh, from Knockmoyle, Cookstown, admitted manslaughter supplying cannabis and heroin in December 2009.
Mr Dallas was found dead the morning after he had allowed McVeigh to inject him with a heroin solution.
During an earlier hearing the trial judge heard that Mr Dallas, who was himself a heavy drug user, had been in Holywell Hospital receiving treatment when he contacted McVeigh asking him to being him some cannabis.
Mr Dallas, the court was told, shared the "grass" with Jade Harrison, a girl who was also receiving treatment in November 2009 and who had began a relationship with Mr Dallas.
A week later, on 2 December, the pair left the hospital and Mr Dallas went back to Cookstown where he shared a house with McVeigh who went to buy heroin after he came home from work.
The three, McVeigh, Mr Dallas and Ms Harrison smoked the heroin together but afterwards, Mr Dallas said he wanted more so he and his girlfriend went to buy some.
Heroin solution
Mr Justice Hart recounted that from then "occurred the tragic events culminating in Dallas' death".
He said while there was some confusion, it was clear that McVeigh prepared a heroin solution and that two syringes were filled before "Dallas then held out his arm to McVeigh, thereby inviting McVeigh to inject the liquid heroin into Dallas' arm".
Ms Harrison was also injected by McVeigh and they went to the living room, lay down on the sofas where Mr Dallas was found dead the next morning.
McVeigh initially pleaded not guilty to his friend's manslaughter but a week before his trial was due to start, pleaded guilty to manslaughter and to supplying cannabis and heroin.
Mr Justice Hart said that McVeigh's criminal record was also an aggravating factor in the case as it contained six convictions for drug possession, indicating that he "has been a dedicated drug user and offender over an extended period of time".
However in mitigation, the judge said it was clear from the evidence that Mr Dallas himself was a heavy drug user and that it was his own drugs which killed him.
From reports compiled on McVeigh, he said there was evidence of genuine remorse but that McVeigh "claims he is not fully responsible for what happened as he was asked to do it by the deceased".
"It may be," said Mr Justice Hart, "that death was neither foreseen nor inevitable but nevertheless, McVeigh bears a heavy share of responsibility for the tragic events that night, even though it is clear that he was not solely responsible because he gave Dallas these drugs at Dallas' request."
Mr Justice Hart imposed a four-year term for the manslaughter and one year for supplying the cannabis to Mr Dallas while he was in hospital, the sentences to run consecutively.