Father's plea after son's fatal motorbike fall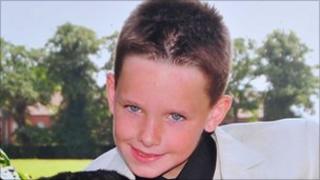 The father of a 12-year-old boy who died after falling off a scrambler bike in north Belfast on Sunday has said other young people should understand the dangers of motorbikes.
Daniel Mooney was riding pillion when the bike crashed at Mountcoole Park. He was not wearing a helmet.
The rider left the scene of the accident and police have been unable to trace him.
Fred Mooney said he had warned his son not to go on the motorcycle.
"He was the passenger on the back of a motorbike, a motorbike that he was told not to get on," he said.
Mr Mooney said his son had a passion for motorbikes and was fearless.
"Other kids need to see the outcome of it - What it is like getting on a motorbike of any size or speed without a helmet. He didn't have a helmet.
"He was a smart kid but at the same time he was only 12."
Mr Mooney said the death was "the waste of a life".