Problems highlighted before Cork plane crash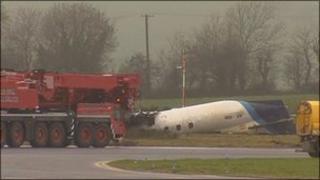 Safety inspectors discovered problems on a plane flying on Manx2's Belfast to Cork service less than a month before the crash in which six people died in February.
It has emerged that one of the issues was out-of-date maps.
Tuesday's BBC Spotlight programme will reveal it was the second time operators for Manx2 had come to the attention of inspectors implementing a European safety programme.
There were earlier problems in 2009.
In March, an interim report into the crash found no faults with the aircraft or the airport landing systems.
It found that the plane's right wing-tip made contact with the runway on its final landing approach.
At the time, Irish air accident investigators said they were still trying to establish why the plane crashed.
Manx2 told the BBC in a statement that it would be inappropriate to pre-judge the official investigation, which is still ongoing.
On the day of the accident, Manx 2 said it audited its operators vigorously and it was no longer using the company, Flightline BCN based in Barcelona.
Spotlight reporter Julian O'Neill investigates the Cork air crash on BBC1 at 2240 BST.