NI 2012 Olympic Torch relay stops announced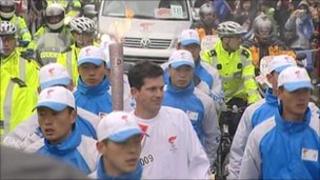 The first 74 locations of the London 2012 Olympic Torch relay route have been announced.
The torch will arrive in Northern Ireland on 3 June and travel to Portrush, Derry, Newry and Belfast.
The London Organising Committee of the Olympic and Paralympic Games (LOCOG) are also looking at the possibility of the Olympic Torch going to Dublin.
A year today, the Olympic Flame will arrive in the UK from Greece and the 70 day relay will start at Land's End.
It is expected to travel an estimated 8,000 miles around the UK.
Bill Morris, the Culture, Ceremonies and Education Director at London 2012, said he hoped the events in Northern Ireland would be an opportunity for the region "to shine".
He said 8,000 torch bearers would be needed for the various routes across the UK.
"We are looking for extraordinary, ordinary people who have done something special in their own community," Mr Morris added.
The Olympic Flame will arrive at the Olympic Stadium on 27 July 2012 for the lighting of the cauldron at the Opening Ceremony, signifying the start of the London 2012 Olympic Games.
For a full map of the stops go to BBC London 2012 .