What is wrong with the SDLP?
By Martina Purdy
BBC NI Political Correspondent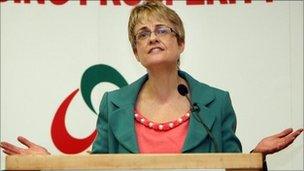 What is wrong with the SDLP? It was a question I put to a senior member of Sinn Fein after the election result. "They have lost touch with their base," was the response.
Over lunch, I pressed this MLA further - and the response was along these lines: "The SDLP likes to talk about the Sinn Fein machine - as if all you have to do is build a machine.
"What you have to do is come up with a message that people can relate to, and then the machine will follow."
The SDLP insists it has a message: uniting people and building prosperity.
The problem however, is that message failed to reach people - or if it did, failed to inspire.
And that failure which translated into losses at the ballot box, has shaken a party already weakened by years of peace-making, years when Sinn Fein became stronger, the SDLP more anaemic.
The roots of the SDLP's demise cannot be laid at Margaret Ritchie's door, or even that of her predecessor, Mark Durkan.
The demise began with the peace process. Sinn Fein's message of peace encouraged voters who previously stayed at home to come out and support them. It encouraged some SDLP voters to lend them their vote. And it inspired new voters.
The SDLP leader John Hume knew well that his party was vulnerable at this time but, amid warnings from his internal critics, made clear he put lives before votes.
And so the seeds of decline began to show post IRA-ceasefire in 1996 with the Forum elections.
That's when the nationalist vote, when broken down by constituency, revealed that Sinn Fein was eating into the SDLP's base.
For years the SDLP sat comfortably at 70% of the nationalist vote to Sinn Fein's 30% - the result in the 1992 General Election.
But in 1996 Sinn Fein had won almost 42% of the nationalist vote, and the figure climbed to 46% the following year.
The SDLP, for years relying on the status of its leader John Hume, and his charismatic deputy leader Seamus Mallon, seemed ill-equipped to fight back - in part because it had failed to attract and encourage young talent.
Mark Durkan - who went on to succeed Hume in 2001 - and Alex Attwood, were the exceptions to this rule.
Mr Durkan, after nearly a decade as leader, enduring more humiliating losses to Sinn Fein, had no fight left in him when his leadership was called into question.
The challenge from the SDLP veteran Alasdair McDonnell, MP for South Belfast, resulted in a bitter battle with Margaret Ritchie who went on to become MP for South Down.
Ms Ritchie narrowly won a battle more marked by anti-McDonnell sentiment, than pro-Ritchie support.
The consolation prize for Dr McDonnell was that his supporter, Patsy McGlone, who hails from Mid-Ulster, became Deputy Leader.
But the Ritchie-McGlone leadership has not been a smooth marriage of East and West.
Ms Ritchie faced rebellion in her assembly team almost immediately when last May she sought to promote the then unelected MLA for south Belfast, Conall McDevitt, to a committee chairmanship. She was forced to back down when confronted by Dr McDonnell and others.
Almost one year later, Ms Ritchie was faced with rebellion again - this time over the ministerial appointment.
She told her assembly team on Monday - just ahead of formal nominations - that Alex Attwood would be the new environment minister.
This was not what others in the party had expected. It's believed they had good reason to believe the choice would be from a rural constituency, most likely Patsy McGlone but possibly Dolores Kelly or Dominic Bradley.
But this time - in the face of opposition - Ms Ritchie refused to back down. This time the lady was not for turning. Did she give her "Margaret Ritchie smile" that signalled self-satisfaction as she delivered the news? No one is saying. But one insider declared:"It was another mistake."
When the nominations were made, the body language in the chamber spoke volumes. Patsy McGlone, former chair of the Environment Committee, sat with his head down, but gave a telling grin to a colleague.
The furore was such that the internal wrangle was spilling into the media."There was no row," one insider is now insisting. "Just an honest open discussion."
But this claim came too late. The BBC was already reporting the difference of opinion over the ministerial appointments - and how an upset Mr McGlone turned down the chairmanship of the Enterprise Committee.
The level of detail was such that Patsy McGlone gave a comment to the Irish News expressing his disappointment that Margaret Ritchie ignored advice and failed to appoint him.
"If you are asking whether I am disappointed I would say I am," he said.
"On a personal level I am disappointed Margaret Ritchie didn't see fit to follow the advice given to her."
Now, no one wants to talk openly about the friction. The press office has not commented.
Alex Attwood is getting on with his first day on the job as Environment Minister. He is a safe pair of hands, a competent minister and loyal to Ritchie. Still her leadership could be challenged by the autumn.
Attwood's promotion has escalated tensions over the direction the party is taking. Mr Attwood leans towards Irish Labour, a minority in the party.
Another source of friction is her performance in leaders' debates and claims that her advisors have too much control. "A total lack of leadership," complained another Ritchie critic. Her defenders say the personality of the minister will not impact on the rebuilding of the party.
No doubt these issues will be aired in the days ahead. The party's MLAs and officers however will gather for discussions on Friday followed by a party Executive on Saturday. There's also a rather large party gathering being planned for June.
But the SDLP has bigger problems than personality clashes: financial woes and no MLAs in key constituencies. How do you rebuild in Fermanagh South Tyrone if you can't afford a full-time office?
And what do you do now that the SDLP's share of the nationalist vote is barely 35% to Sinn Fein's 65%?