Western trust chair confident over cancer unit go ahead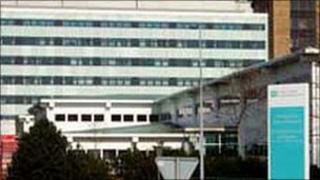 The chairman of the western health trust has said he remains confident that a proposed radiotherapy unit at Altnagelvin Hospital in Londonderry will be given the go ahead.
Gerard Guckian was speaking after the health minister Edwin Poots visited the hospital and again said he could not give a firm commitment to the project.
Mr Guckian said he believes the value of such a facility will be recognised.
"We are confident it will stand on its own merits," he said.
"Given that the capacity in Northern Ireland will run out in 2016 and also the incentive of treating Donegal patients."
Speaking on Tuesday the Assembly's new health minister said he could not guarantee the unit would get the green light.
Edwin Poots said it was a top priority but he wanted to study the business case before taking a final decision.
The centre was put on hold in March after the previous health minister, Michael McGimpsey, said he did not have enough money in his budget to run it.
Mr Poots said he hoped to make a decision in the next few weeks.
"It's top of my in-tray. What I can't do is give a cast-iron guarantee without having seen all the documentation and papers around this issue," said Mr Poots.
"Ultimately, what I will seek to do is to ensure there is adequate funding available to do this which doesn't compromise other elements of the health service. If that is possible I will be very keen to ensure that this goes ahead."
People in Derry have to make a 200-mile round trip to the cancer centre in Belfast for treatment.
Mr Poots said that could not continue.