Obituary: Irish statesman Garret FitzGerald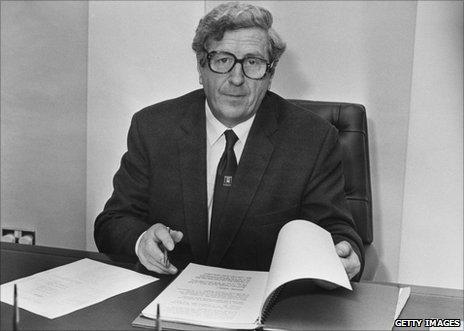 Credited as a peace-maker, Garret FitzGerald maintained the respect of friend and foe alike during his career at the top of Irish politics.
As taoiseach (prime minister), he signed the Anglo Irish Agreement of 1985, which gave the Republic of Ireland a say in the internal affairs of Northern Ireland and paved the way for the Good Friday Agreement.
He took his party, Fine Gael, twice into government as part of a coalition, and lived just long enough to see it finally overtake Fianna Fail to claim first place in a general election.
Reaching across Dublin's political divide, the current Fianna Fail leader, Micheal Martin, paid tribute to FitzGerald's "integrity, his abilities and his unfailing politeness and courtesy" on hearing of his death in a Dublin hospital at the age of 85.
Northern Ireland's First Minister, Peter Robinson, who bitterly opposed the 1985 agreement, said: "Dr FitzGerald and I disagreed profoundly on many things... but he never allowed political difference to become a bar to personal relations."
Fitzgerald was born in Dublin in 1926 to parents heavily involved in politics, and it seemed almost inevitable that he was destined for high office.
His father, Desmond FitzGerald, who was born in London, and his mother Mabel Washington McConnell, from Ulster Protestant stock, were both fervent Irish nationalists, politically active during the Irish War of Independence.
Garret was born while his father was minister of external affairs in the Republic's first government.
It was his mother's influence that helped lead him in later life to attempt to reconcile the communities on both sides of the border.
FitzGerald met Joan O'Farrell at University College Dublin. They went on to have three children and were noted for the warmth and affection of their relationship.
Political opponents were said to be more in awe of her political instincts than those of her husband, who pursued careers in economics, education and journalism, developing a passion for statistics.
"She had all the gossip and knew exactly what was going on," said a family friend. "She differed from Garret in that she was grounded in daily life and more practical."
After serving a term in the Senate from 1965, Fitzgerald was elected to the Dail (Irish parliament) in 1969 as Fine Gael representative for Dublin South-East.
A strong advocate for Ireland's membership of the Common Market, he was appointed minister for foreign affairs when Fine Gael formed a government in 1973.
He helped negotiate the Sunningdale Agreement which resulted in a short-lived power-sharing executive in Northern Ireland.
Elected Fine Gael leader in 1977, he led a minority government in 1981 which fell within months over a VAT issue.
But he returned in November 1982 at the head of a Fine Gael-Labour coalition.
He sought to woo Northern Irish Protestants with liberal policies but failed in his attempts to amend abortion and divorce legislation.
After a clash with British Prime Minister Margaret Thatcher over his work to unite constitutional nationalists in a New Ireland Forum, he persevered and 1985 saw what was possibly the high point of his career: the Anglo-Irish Agreement.
FitzGerald's initiatives "ultimately paved the way to peace and democratic institutions" in Northern Ireland, SDLP president and Nobel Laureate John Hume said after learning of his friend's death.
"A moderniser and reformer, Garret helped change the face of Irish politics for the better and he enthusiastically embraced Europe and the opportunities it afforded our island," Mr Hume said.
FitzGerald's death coincided with the historic state visit of Queen Elizabeth II to the Irish Republic.
"I was saddened to hear this morning's news of the death of the Garret FitzGerald, a true statesman," she said in a personal message.
"He made a lasting contribution to peace and will be greatly missed."