Legal aid row continues as lawyer withdraws from case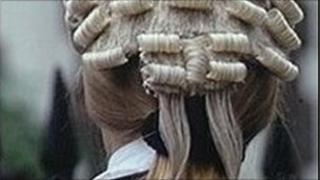 A mental health patient is set to go on trial without legal representation after his lawyer stopped work as part of the ongoing dispute over cuts in fees.
Solicitor Eoghan McKenna described his decision to come off record for Daniel Lowry as his "worst case yet" since the row about legal aid payments began.
Mr Lowry, 23, of Lenadoon Avenue, Belfast, faces a charge of harassment.
He is currently an in-patient at Muckamore Abbey Hospital in Antrim.
Two nurses accompanied him as he appeared before the city's magistrates court for a preliminary enquiry hearing.
A judge granted a prosecution application to have him returned for crown court trial on a date to be fixed.
Mr Lowry was released on bail back into the care of the health authority.
Regret
His solicitor also confirmed that he was coming off record as part of the legal aid dispute and asked the court to note the accused's vulnerability.
The action by lawyers is over new rules introduced by Justice Minister David Ford which bring an end to enhanced rates paid out in 'Very High Cost Cases'.
Fees to solicitors have been reduced by 25% under changes in legal aid for crown court proceedings, while barristers' rates will also drop by 20%.
Mr Ford said the move will save more than £18M on expenditure on legal aid.
But lawyers claim it represents a pay cut of 53% and will make it impossible to prepare cases properly and ensure clients receive a fair trial.
Mr Lowry is the latest defendant sent for crown court trial affected by the dispute.
Following the hearing Mr McKenna expressed his regret and concern at the situation.