RIR soldiers take part in Ballymena homecoming parade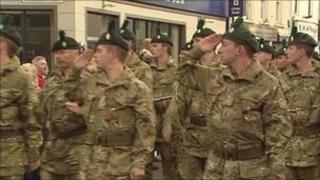 Thousands of people have lined the streets of Ballymena as soldiers from the 1st Battalion Royal Irish Regiment took part in a homecoming parade.
Around 200 soldiers paraded in the town on Friday evening.
The troops recently returned from a six month tour of Helmand Province in Afghanistan.
Lieutenant Colonel Colin Weir said while it was a privilege to be back home, their thoughts were with their colleagues who had not returned.
"I think in the back of all our minds there is that sense of loss, and while we're delighted to be here and we're delighted to receive the accolade of this town, I think it will always be tinged with a degree of sadness for those that aren't with us, and indeed those that are injured and can't parade," he said.
The regiment was given the freedom of the borough.
It is the first in a series of parades in NI for the RIR. However, an offer to march in Belfast was declined.
The Ministry of Defence said it had turned down the offer from Belfast City Council due to "post-operational duties".
There were protests at a previous parade in 2008.
On Saturday, Lisburn City Council is to meet in special session to confer the freedom of the city on the RIR and the regiment will then parade through the city.
The following day the RIR will gather at St Anne's Cathedral in Belfast for a thanksgiving and remembrance service.
Soldiers from the 2nd Battalion TA who also served in Afghanistan will exercise the freedom of Castlereagh in a parade the following weekend, before moving to Hillsborough Castle for a ceremony with their families and friends in order to receive their medals.
‪