Derry city centre bomb thrown into bank by attackers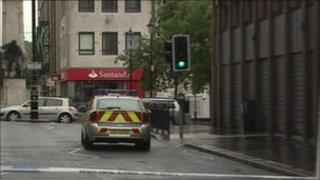 A bomb which exploded in a bank in Londonderry was "thrown" into the Santander branch by masked men.
PSNI Chief Inspector John Burrows said "there was sheer panic" when the bomb, contained in a hold-all, was thrown.
"There were young children who had to be evacuated. People could have been killed when this explosion went off," he said.
The device exploded in the Diamond at about 1320 BST, but there are no reports of any injuries or damage.
Northern Ireland politicians have condemned the bomb attack on Londonderry city centre.
SDLP Foyle MP Mark Durkan said he was "deeply angered and shocked at this dangerous attack".
NI's First Minister Peter Robinson condemned those responsible and said they had nothing to offer society except "death and destruction".
Sinn Fein councillor Gerry MacLochlainn was in the area when the explosion happened.
"I was going up to the Tower Hotel because there was a possible evacuation because of a bomb scare," he said.
"Apparently a device had been left in the building society at the Diamond in Derry."
Mr MacLochlainn said that as he approached the hotel, the device exploded.
"There doesn't appear to be an awful lot of damage outside, thank god," he said.
'No cause'
"Whatever damage seems to be mainly confined to the inside of the building, but obviously I don't know, I wasn't able to see that."
Mr MacLochlainn said it was time the people who carried out the attack realised "that they have been rejected by the republican community and should desist immediately".
Mr Durkan said that those responsible were "advancing no cause or argument by this and are just bringing distress and disruption to the people of this city".
"Derry city centre yet again has lost a Saturday shopping. The shops in Derry need every trading hour that they can get," he said.
"People are working hard, but life is hard for many people and many businesses and these people are only making it harder."
Following the explosion Army bomb experts investigated reports of a suspicious object in New Market Street, also in Londonderry city centre.
That security alert has now ended and police said "nothing untoward was found".
The Richmond Centre and Millennium Forum have now reopened and Orchard Street and New Market Street have been reopened to traffic.