21-year-old Aaron Hogg found dead in Maghaberry cell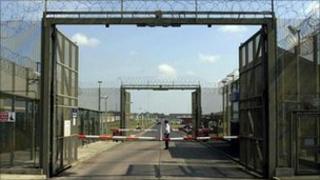 A 21-year-old man has been found dead in his cell at Maghaberry Prison.
Aaron Hogg was in custody on remand and was pronounced dead by a doctor at 0637 on Sunday morning.
The PSNI, Coroner and Prisoner Ombudsman have all launched investigations into his death.
The director general of the Northern Ireland Prison Service Colin McConnell said it deeply regretted the "tragic" death.
"Out thoughts and prayers are with the family at this difficult time.
"We should also spare a thought for those members of NIPS staff who have to cope personally and professionally with these distressing events."
Earlier this month, a 19-year-old man and a 23-year-old woman were found dead in their cells in Hydebank Young Offenders Centre.