Free Presbyterian church attacked in Rasharkin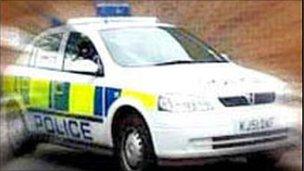 A Free Presbyterian church in north Antrim has been attacked during a service.
A stone was thrown at the church in Rasharkin during evening worship on Sunday night.
Glass showered over a mother and her 16-year-old daughter who were sitting close to the window.
Reverend Kevin McLeod said the pair were fortunate not to be injured. "It could have been potentially very serious," he said.
"I thought at first a light bulb had exploded but it turned out a stone had been thrown.
"A few pieces of glass ended up on a mother and daughter sitting near that particular window.
"Thankfully apart from being shaken up and startled they were OK and we continued on as best we could with the service."
DUP councillor John Finlay condemned the incident.
"People have a right to worship without being intimidated and I appeal to anyone with information to bring it forward to the PSNI," he said.
"This attack represents a continued campaign by a minority within the village of Rasharkin against members of the opposite community."