Application over Emmet Shiels murder charges dismissed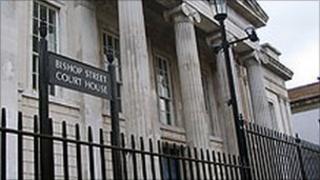 An application by a man charged with the murder of pizza delivery man Emmet Shiels in Londonderry in 2008 to have the charges dismissed has been rejected.
Thaddeus McAllister, 19, has an address in London, but is originally from Cable Street in the Bogside.
Mr McAllister faces charges of murder, attempted murder and possessing a firearm.
He wanted the charges dismissed due to the delay in going to trial.
Mr Shiels was killed in June 2008, six days before the birth of his son.
He was delivering pizzas when he was caught up in a confrontation with masked gunmen and was shot twice.
A defence solicitor said on Monday that his client had been arrested three times in relation to the charges.
He said that in February this year when he was charged, Mr McAllister had not been questioned but simply arrested and charged and this suggested that there was no new evidence.
The solicitor said the prosecution had all the evidence since 2008 or at least 2009 and there was no reason for the delay in bringing him to trial.
The investigating officer said that one of the delays was the fact that he had been redeployed.
He also said that the decision to proceed with charging Mr McAllister had not been taken by the Public Prosecution Service but by the senior investigating officer.
The officer said the file was not a large one but there were numerous statements from interviews and that there were still some items outstanding.
The Deputy District Judge said he was refusing the application to dismiss the charges, but he was adjourning the case until June 20 when he wanted a date set for a preliminary inquiry.