NI flights cancelled as ash cloud approaches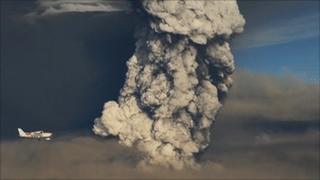 A number of flights to and from Northern Ireland have been grounded because of the Icelandic ash cloud.
The majority of affected flights are to and from airports in Scotland and north-east England.
Two flights to and from City of Derry Airport and Dublin have also been cancelled.
Earlier, UK Transport Secretary Philip Hammond said that Northern Ireland airspace could be most severely affected on Friday.
Forecasters have said changing wind patterns made it hard to predict the cloud's exact path and concentrations would vary between regions.
Belfast International Airport, Belfast City Airport and City of Derry Airport are advising passengers to contact their airline before leaving home.
Despite later cancelling its flights, the Irish carrier Ryanair claimed it had made a test flight through ash over Scotland and challenged a ruling some flights should be grounded.
Ryanair said its 90-minute flight at 41,000ft showed there was "no visible volcanic ash cloud or evidence of ash on the airframe, wings or engines".
Ryanair said the "red zone" over Scottish airspace where ash has been classified "high-density" was invented by the Met Office and the Civil Aviation Authority (CAA).
But a CAA spokesperson said: "The CAA can confirm that at no time did a Ryanair flight enter the notified area of high contamination ash over Scotland this morning."
BBC transport correspondent Richard Scott said the CAA confirmed Ryanair were being, at best, "misleading".
The cancellations come just over a year after another volcanic eruption in Iceland caused widespread disruption across Europe, including the closure of UK airspace, amid concerns about the damage volcanic ash could cause to engine aircraft.
This year, in the UK, the decision on whether to fly or not in ash cloud conditions is down to individual airlines subject to aviation authority approval.
The CAA said procedures were "totally different" to last year and although no airlines had applied to fly in high-density ash, some had applied for, and been given, permission to fly in medium ash.
The Grimsvotn volcano in Vatnajokull National Park began erupting on Saturday and closed Iceland's airspace for a period.
Experts say the eruption is on a different scale to the one last year and ash particles are larger and, as a result, fall to the ground more quickly.