Robinson criticises job for woman in Mary Travers link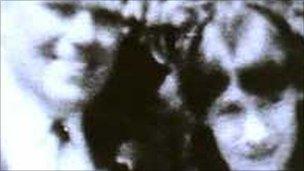 The first minister has criticised a decision by Sinn Fein to give a top job at Stormont to a woman convicted of murdering a magistrate's daughter in the 1980s.
Mary McArdle, 46, was part of an IRA gang who ambushed Tom Travers and his family as they left Mass in south Belfast in April 1984.
Mary Travers, who was 22, was killed.
On Wednesday, Sinn Fein appointed Ms McArdle as special adviser to the Culture Minister Caral Ni Chuilin.
Peter Robinson has described the decision as "insensitive and a mistake".
Writing on Twitter the DUP leader said Sinn Fein should recognise the "hurt" felt by Ms Travers' family.
Her sister Ann Travers said she was shocked and felt physically sick by the appointment.
"She's now (McArdle) in the position in which she is paid by the taxpayer - of which my mum is one," she added.
"I am absolutely horrified that she has been given such a position.
"I think it's really wrong and I think she should stand down."
Ms Travers said she had only found out about Ms McArdle's job when contacted by the BBC on Wednesday morning, and criticised Sinn Fein for not contacting her.
"They didn't even have the decency to let us know that this woman involved in the murder of my sister had been given this job," she said.
"While we all want to move forward and have peace in Northern Ireland, we're still all allowed to grieve and we should never be asked to stop grieving or forget about our loved ones who were murdered.
"We're not allowed to move on because every time we want to move on, Sinn Fein turn the knife a little bit more and we're asked to accept a little bit more from them."
However, the minister, Ms Ni Chuilin defended the choice and said Northern Ireland was now in "a post conflict environment".
"Myself and my special adviser are both former political prisoners.
"The Good Friday Agreement in 1998 recognised the role of political prisoners
"I understand that, particularly where families have been bereaved, there are huge issues around grief and I respect that."
Ulster Unionist assembly member Robin Swann described the appointment as "a calculated insult to victims".