Gerry Adams west Belfast by-election candidates list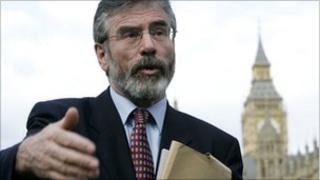 Six candidates are in the running for the West Belfast by-election.
The election was called after Gerry Adams resigned and became a Sinn Fein TD in Louth.
Paul Maskey is bidding to continue where Gerry Adams left of and keep the seat in his party's hands.
Alex Attwood has been chosen by the SDLP. Brian Kingston was selected for the DUP and Bill Manwaring will run on behalf of the Ulster Unionists.
The Alliance Party have chosen Aaron McIntyre and Gerry Carroll is standing for People Before Profit.
The by-election takes place next month on Thursday 9 June and counting will begin once polls close.
With a majority of 17,500 votes it is Sinn Fein's safest seat.