Less than half of NI beaches pass swim test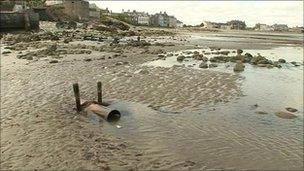 Less than half of all beaches in Northern Ireland surveyed for this year's Good Beach Guide are recommended for swimming.
The water on three beaches - Ballyholme, Newcastle and Cranfield Bay - failed to meet even the basic standard.
The overall results were marginally better than last year with 10% more beaches being recommended.
Across the UK, only the Isle of Man was worse than Northern Ireland.
To be recommended by the Marine Conservation Society (MCS) which produces the guide, the sea or bathing water washing the beach must be 20 times cleaner than the European guidelines.
It must also receive a 100% pass when tested for specific bacteria.
Rachel Wyatt, MCS coastal pollution officer, said: "From 2015 Europe's beaches will be classified using even stricter water quality standards due to a revised bathing water directive.
"But instead of viewing these new standards with dread, our coastal communities and NI Water should welcome them as an opportunity to attract more people to Northern Ireland's wonderful and varied seaside resorts."
Just 10 out of 24 beaches tested in Northern Ireland were recommended.
Northern Ireland's Recommended Beaches
Magilligan Strand at Benone
Beaches that met Guidelines
Portballintrae (Salmon Rock)
Cranfield (Nicholsons Strand)
Related Internet Links
The BBC is not responsible for the content of external sites.