Bobby Tohill kidnap: Man is extradited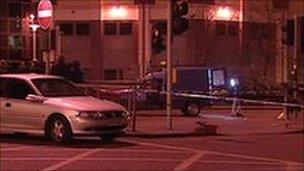 A man sought by police investigating the kidnap of dissident republican Bobby Tohill has been extradited from the Republic of Ireland.
The 37-year-old was arrested on a crown court bench warrant and will appear at Belfast Crown Court later on Thursday.
Mr Tohill was abducted from a Belfast city centre bar in February 2004 and driven away in a van which was then intercepted by police.
Three men have already been jailed over the incident.
In December 2005, four Belfast men Henry Joseph Fitzsimmons, 42 of Spamount Street, Thomas Tolan, 40, from Ballymurphy Parade, Gerard McCrory, 39, of Dermott Hill Road and Liam Rainey, 37, from New Barnsley Crescent, all Belfast, all pleaded guilty to kidnap.
All four absconded as they were due to be sentenced in May 2006.
Tolan and McCrory were arrested and in January 2007 were jailed for six-and-a-half years and seven years respectively.
Fitzsimmons was arrested in Aughnacloy in March and was sentenced to eight years imprisonment in April.
Rainey was arrested in May 2010 in County Meath and had been awaiting extradition since.
The PSNI said they could not confirm that he is the man who has been extradited on Thursday.